Greetings from Tennessee! I have made the long journey back to Tennessee from California. I will be here in this area until my return to Europe in early April. March is always a special month for me. First, it's a very "Celtic" month, where we celebrate three Celtic saints: St. David in Wales (1st), St. Piran in Cornwall (5th), and St. Patrick in Ireland (17th).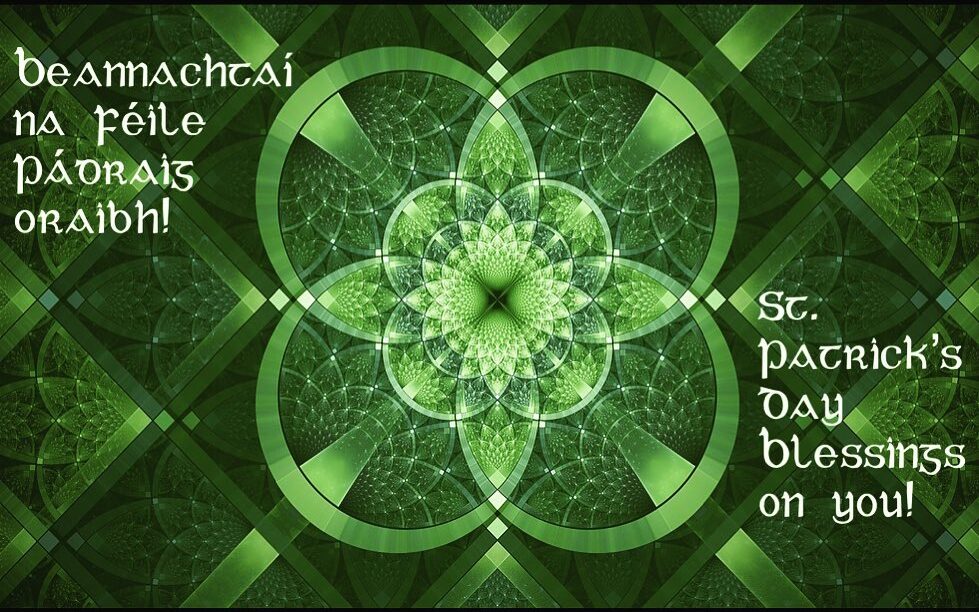 But March is also important to me, as it is my birthday month (31st). This year I turn 58. I remember a time, when 60 seemed like a really long way in the future. It's now just around the corner. Of course, I suppose that I could describe the situation as one of my good, Welsh, pastor friends often did, when he said, "I'm approaching 50, but I won't say from which direction." At any rate, Let me take a few moments to catch you up on things both with me personally and with our team during the month of March (so far).
Personal Update
I started March in California, leaving there on the 4th and arriving back in Tennessee by the 7th, as planned. Here are a few points from the month so far.
Family
It was good to be able to see my sister, her daughter and grand-daughter in Little Rock, Arkansas on my way back to Tennessee. Of course, it was great to see and visit with my mother upon my return to Tennessee.
Ministry
As I mentioned I concluded my "Grand Tour" of the Western USA in early March. Before leaving California, I was able to work in one last visit to California Baptist University, as well as a few meetings with individuals, which were productive times. The return to Tennessee was pretty much just travel (driving) with a pleasant stop in Texas with friends on the way. To be honest, these few weeks between my return from the West until my departure from the USA back to Wales in early April have been a good bit of preparing to leave, visiting with family and friends, and trying to catch up with a good bit of admin work (which sadly lagged a good bit while on my "Grand Tour"). However, I am also taking advantage of opportunities for local ministry while here in Tennessee even with the little bit of time I have left. For example, I will be hosting a St. Patrick's meal and mission talk for the young people at Green River Baptist Church, where I hope to share more about the historical Patrick and his missionary work in Ireland.
With that said, if anyone in the Middle Tennessee or Northern Alabama/Mississippi area would like to meet with me or have me involved in your ministry before I leave, please, contact me at [email protected].
Ongoing, personal prayer requests
I have a couple of prayer requests to share that are of a personal nature, but pretty important to me. First, I would like to ask that you continue to pray for my housing situation in Wales. I mentioned this need in great detail in my February update. On a positive note in that regard, I might be on to a possibility of a temporary place to live (from 1 to 6 months – as needed) in Wales, while I'm looking for a permanent home, which again might take some time to find. Please, keep praying both for this short-term solution, and particularly for a more permanent, long-term solution for housing in Wales.
Second, I drive to Chicago on the 4th and fly out from Chicago on April 6th, arriving in Dublin extremely early (5:30) on the morning of the 7th. I'll then take the ferry to Wales either later in the day on the 7th or sometime on the 8th. That is the plan anyway. I would like to ask you to pray for me with all of this travel, especially the flying (which I don't like very much – as many of you know). Thank you for praying
Team Update
As for us as a Team, I suppose that our activities in a very concise sense could be described as (1) re-acclimating to life and ministry either on-field or back in the USA; (2) preparing for big moves in one direction or the other; (3) ongoing recruiting via long-distance for new people to join in our ministry on-field, whether as students, medium-term, or long-term personnel; (4) continuing to develop strategy both for local ministry an Church-planting initiatives as well as new partnerships and work in new areas and language groups; and (5) about a dozen or more other activities of one nature or the other but related to the ministry to which God has called us in Europe and all in a context of uncertainty due to the waning but lingering effects of the COVID Pandemic and now open warfare in Europe again. Your prayers for us are greatly appreciated as we navigate life, calling, and ministry in these contexts and over a vast area with complex and numerous ethnolinguistic people groups in Europe.